Red Rock Democratic Club Tribute to the Legacy of US Senator Harry Reid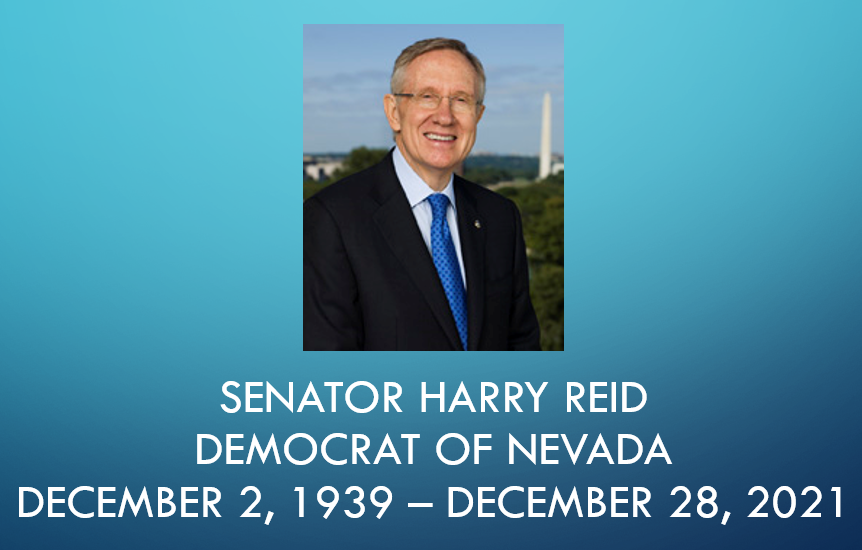 "Today, we are profoundly saddened by the loss of our beloved Senator Harry Reid who passed yesterday after his four-year battle with pancreatic cancer. 
From humble beginnings in Searchlight, NV, Senator Reid became a giant in Nevada, U.S. and world politics, rising to Majority Leader in the U.S. Senate. His father was a miner and his mother did laundry. He never forgot where he came from and never ceased fighting for what he thought right for the Nevadans he served and for humanity as a whole. He made priorities of immigration reform, including the Dream Act and the passage of the Affordable Care ACT. He was dedicated to defending Yucca Mountain from being a nuculear waste dump and to conserving public lands in Nevada, fighting hard to secure Tule Springs Fossil Beds National Monument, the Basin and Range National Monument and the Gold Butte National Monument for generations to come. An early adopter of solar & wind energy at his own home in Searchlight, Senator Reid was a true advocate for Renewable Energy, championing crucial renewable energy legislation which allowed the solar power and wind power industries to gain ground in the United States. Senator Reid will always be a treasured Nevada icon. Recently, he saw the McCarran International Airport officially renamed to the Harry Reid International Airport in his honor. We at Red Rock Democratic Club sorely mourn the loss of our great Democratic Senator Harry Reid."
In memoriam of Senator Reid and to support the eradication of Pancreatic Cancer, please join us as we walk/run to support research to defeat this disease. On April 30, 2022, Team Red Rock Dems will be participating in the Purple Stride Run in honor of Senator Reid.
Join team "Red Rock Dems" by clicking here as we remember Senator Harry Reid.