Stay Healthy! Stay Blue!
Red Rock Democratic Club's 2020 Virtual FUNdraiser
w/ Special Musical Guest, Rosie The Riveter!
Sunday, October 4, 11AM - 1PM
We picked up a time machine at a garage sale and brought Rosie forward in time to once again help save Democracy!
Missy Parker & Deidre Radford from the Famous OWL's Choir pair up for a swingin' 1940's musical political parody that is hilarous and not to be missed!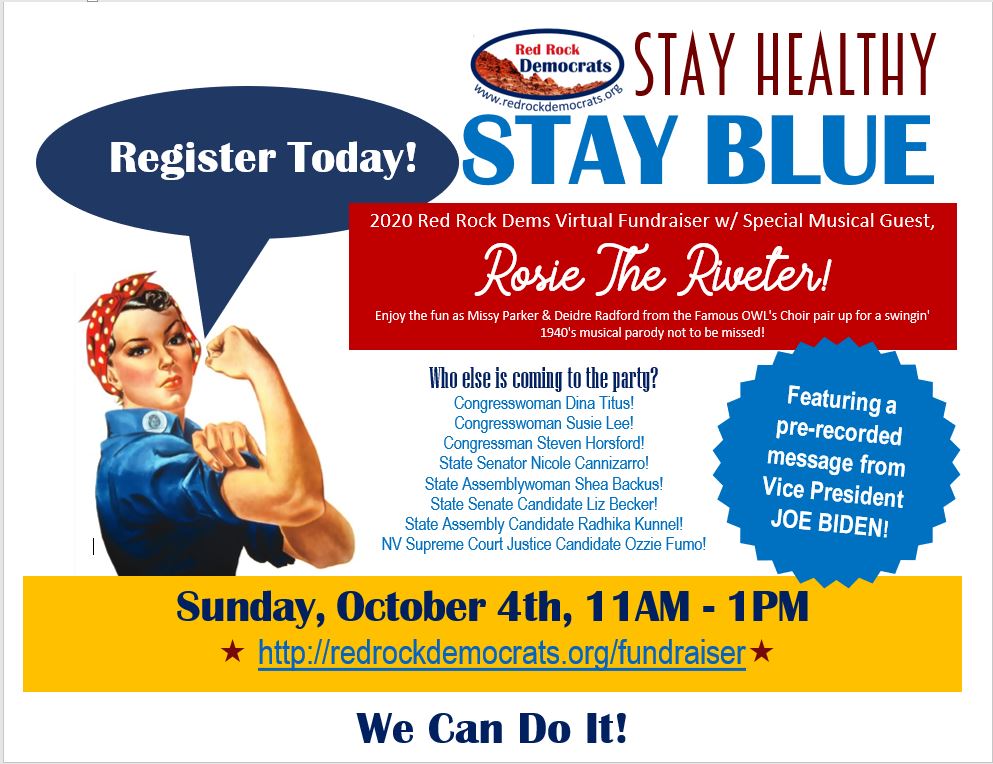 ** REGISTER BY CLICKING HERE **
*********************************************************************
Live Speakers

Congresswoman Dina Titus



Congresswoman Susie Lee





Congressman Steven Horsford





Assemblywoman Shea Backus





Senate Majority Leader Nicole Cannizzaro





AD-02 Candidate Radhika Kunnel





SD-18 Candidate Liz Becker





Supreme Court Candidate Ozzie Fumo




Recorded Speakers

Vice President Joe Biden





Governor Steve Sisolak





Senator Catherine Cortez Masto





Senator Jacky Rosen

Elected Officials and Candidate Sponsors


Judge Bonnie Bulla (NV Court of Appeals)

Judge Elisa Cadish (NV Supreme Court)

Ozzie Fumo (NV Supreme Court)

Adam Ganz (District Court 3)

Phil Aurbach (District Court 4)

Terry Coffing (District Court 5) 

Judge Trevor Atkin (District Court 8)

Anna Albertson (District Court 17)

John Hunt (District Court 18)




David Lopez-Negrete (District Court 29)

Sunny Bailey (Family Court I)

Amy Mastin (Family Court M)

Dawn Throne (Family Court U)

Stacy Rocheleau (Family Court W)

Former Judge Heidi Almase (Family Court X)





Chris Brooks (SD-03)

Shannon Bilbray-Axelrod (AD-34)




Individual, Club, and Corporate Sponsors
** Interested in Sponsoring? **