JUNE MEETING
LGBTQ+ and YOU!
Conversations w/ LGBTQ+ Leaders
Wednesday, June 29th, 7pm via ZOOM
DEREK MARSHALL
US Congress Candidate CA District 23 (right across stateline!): "How I won the ground game in the CA rural reds! How we #GetOutTheVote!"
SY BERNABEI
Director, Gender Justice Nevada: LGBTQ+ & Progressive Politics!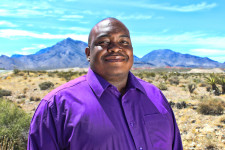 Moderated by: HUNTER CAIN
LGBTQ Activist, Candidate, & Red Rock Dems Board Member